Utilities
TVC built by Digital Base to support the feet while we work on the turret.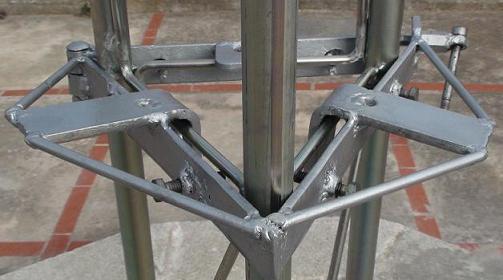 Pulley manufactured by Digital TVC.
In the photo on the left is as introduce a mast 45 Pointer mm inside.
The photo on the right shows how a pointer to introduce climbed into an intermediate.


Bracing design for turret winds 7,5 meters built by Digital TVC for small locations.
The antenna is a total of 9,5 meters, motorized and adapted to LTE.


Pulley manufactured by Digital TVC to climb stuff, also useful to raise the mast when it is within the turret locked by the pointer.




VERY IMPORTANT!

It is totally advisable to type pulleys shown in photographs, be made by professional staff in hardware, as any mistake, miscalculation of distances, etc., could cause damage to the furniture you record the farm and even to people who are installing the turret.
---

Articles

The PER and BER

Changing the channel grid of a hotel

Signal LTE

The coexistence between television and mobile services

Compressing the digital signals

3D TV

The digital security: a new challenge for the installer

New business opportunity for the sector

Search for energy efficiency

---