What we do

Installation and maintenance of individual and collective antennas TV, both terrestrial and Satellite, intercom and video door phones, fiber optic networks, voice and data networks, video surveillance, also do studies for reducing energy consumption for both condominiums and community parking.

DIGITAL TVC, has its own laboratory with modern equipment to analyze and test any product that hits the market before being installed in the premises of our customers as.

Personnel DIGITAL TVC, constantly attending refresher courses, to be always adapted to new technologies in order to give our customers quick service and excellent quality.

Most dishes come from the factory with the clamp that secures the fitting portion open at one end. The result is the photo. Also I have to add that the operator who installed this antenna is not annoying or tighten their nuts.

When we arrived at the facility for repair, we are as shown in the picture, cable or antenna would have endured since detached from the mast is also found.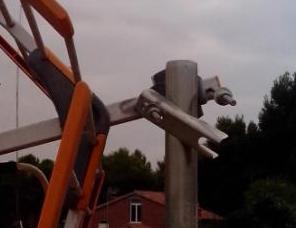 When installing the antenna working uncomfortably either by its high altitude or proximity in a dangerous place, with such gag, it is difficult to place the antenna on the mast that is not fully closed and the antenna is easy to fall under its own weight and no time to pick it up.
This is to make up and is hiding with white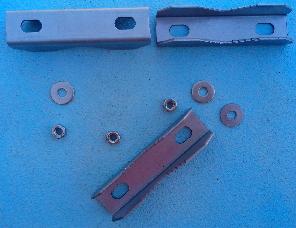 For years DIGITAL TVC antennas as they arrive to our store, remove them open jaw and put a nut and closed with stainless steel washers, thus the antenna may never leave your mast, therefore, reduce risks during installation and ensure that in the future does not happen as in the previous photo.